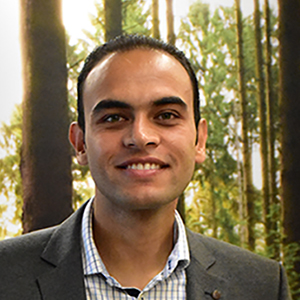 Mahmoud Abouelnaga is a Solutions Fellow at the Center for Climate and Energy Solutions (C2ES). He researches and analyzes state, federal and regional energy and environmental policy. His work on business development in energy policy and technology deployment engages business representatives including our BELC and other stakeholders on clean energy and industrial strategy. He writes and communicates information on the overarching topic of climate and clean energy leadership and related policy issues.
Prior to joining C2ES, Mr. Abouelnaga worked for bioMérieux, a world leader in clinical diagnostics, in their headquarters in France to help develop a risk management system for climate change-related risks of their industrial activities. His work focused on three dimensions of climate change management: strategy, risk management, and carbon assessment and reporting with focus on enhancing reporting of Scope 3 GHG emissions. He also co-founded CAREforSeven, an initiative that promotes SDG7; affordable and clean energy by training students to develop solar chargers from E-waste. His prior experience also includes working as a petroleum engineer for Halliburton with their production enhancement operations in Egypt.
Mr. Abouelnaga was part of the inaugural class of Obama Foundation Scholars at Harris School of Public Policy, University of Chicago where he earned MA in international development and policy and a certificate in energy and environmental policy. He also holds a MS in sustainable energy engineering from KTH Royal Institute of Technology in Stockholm, master's in environmental management from Universidad Politecnica de Madrid, and a BS with honors degree in petroleum engineering from Suez University.