The Bureau of Ocean Energy Management (BOEM) will hold the U.S. government's largest offshore wind auction to date on Feb. 23 in support of the Biden-Harris Administration's clean energy goals. This auction in the New York Bight area would have a potential capacity of 5.6 – 7 gigawatts (GW) of clean electricity (enough to power almost 2 million households). Along with six new lease areas to be auctioned by 2025, these unprecedented, clean-energy lease sales represent major milestones in a 30.7 GW U.S. project pipeline, enough to meet the first national offshore wind energy goal of 30 GW by 2030. It also sends a strong signal to the U.S. offshore wind industry that it's time to scale-up its role as key piece of the clean-energy transformation that will move the U.S. economy closer to net-zero by 2050.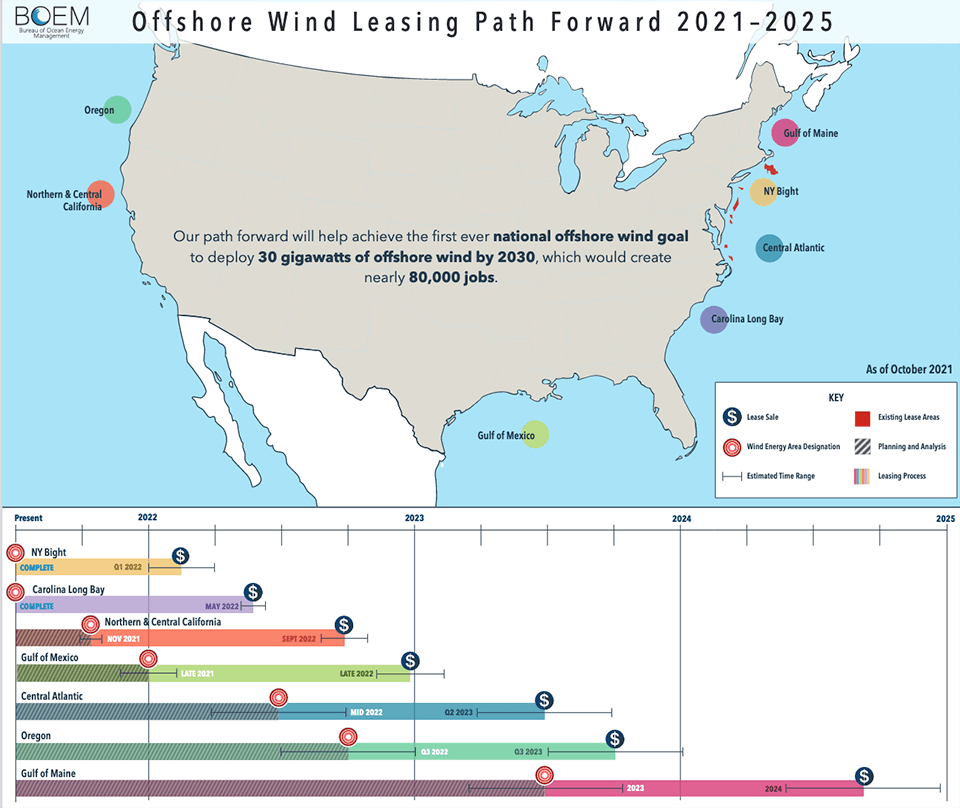 Higher and more consistent wind speeds at sea make offshore wind an excellent source of clean electricity with higher capacity factors or utilization rates than onshore wind. Offshore wind also has a comparative advantage over onshore when it comes to timing. Offshore wind speeds tend to be highest during the afternoon and evening, aligning well with peak electricity demand. This makes offshore wind a good alternative to fill the supply gap when the production from other renewable sources is waning.
In terms of locational value, offshore wind resources in the United States are close to areas with high electricity demand (coastal and Great Lakes states). This means that offshore wind farms would use shorter transmission lines to connect to the grid in these states. Also, offshore wind does not compete for land use, especially in densely populated areas such as the northeast. Offshore wind also offers a good opportunity for workforce transition by tapping into experience from the U.S. offshore oil and gas sector (e.g., building platforms, offshore maintenance operations, and monitoring technologies).
Despite its many advantages, offshore wind has a few hurdles. Even though shorter transmission lines are needed, siting challenges remain. Additionally, the fishing industry has historically opposed offshore wind projects over concerns about the impact on maritime operations and their livelihoods. Other concerns include the environmental damage from seabed and marine life disturbance and how it can be mitigated. Also, as turbines get larger to generate more power, purpose-built ships will be needed to install them. Project developers would also need to utilize domestic shipping services that are restricted by the 102-year old Jones Act, a unique obstacle to U.S. offshore wind development.
While the United States is a global leader in many power generation technologies, there is a huge gap when it comes to offshore wind, with only two projects in operation totaling barely 42 MW. That's less than 0.1 percent of global capacity (compared to almost 17 percent for onshore wind and 11 percent for solar). That is why the U.S. offshore wind industry must start scaling-up after years of waiting for the green light. Offshore wind projects can create thousands of well-paying, local jobs, not just in construction, but also in longer-term operations, maintenance, and supply of the offshore wind industry. Total offshore wind investments on both U.S. coasts are expected to be around $12 billion per year by 2030.
Meeting our first national offshore wind target could help the United States avoid almost 50 million tons of carbon dioxide emissions annually. It would also help states and our nation achieve their clean energy targets. While offshore wind faces challenges, it is a viable climate solution. If Miguel de Cervantes were to write "Don Quixote" nowadays, he would tell us there is no need for tilting at offshore wind(mills); we need to embrace them.