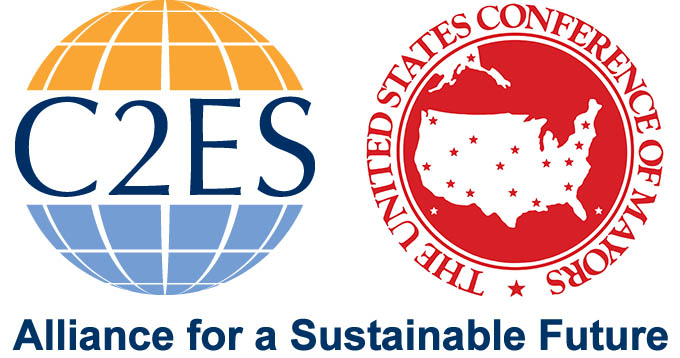 The Alliance for a Sustainable Future – a joint effort of C2ES and The U.S. Conference of Mayors – helps cities and businesses collaborate on sustainable development.
Separately, cities and businesses have already been demonstrating climate leadership. Together, they can accelerate the momentum toward a more sustainable, low-carbon future.
The alliance creates a framework for mayors and business leaders to develop concrete approaches to reduce carbon emissions, speed deployment of new technology, and respond to the growing impacts of climate change.
Salt Lake City Mayor Erin Mendenhall leads the alliance steering committee, which consists of founding sponsors Duke Energy, AECOM, and ComEd and the mayors of Austin, Des Moines, New York City, and West Sacramento.
Goals of the alliance:
Empower local leaders to contribute to the design and implementation of state climate plans and other supporting federal, state, and local initiatives;
Inform and engage mayors, city officials, and business leaders so that strategic opportunities can be identified and explored;
Build new public-private partnerships; and
Raise the profile of city and business contributions in accelerating sustainable development, resilience, and climate action to help implement international commitments.
The alliance's 2020 survey shows that mayors nationwide are planning for new climate actions in the coming year. Case studies published in April 2021 show specific examples of promising solutions.
"Active conversations between city and business leaders can drive ambitious new solutions for climate and air quality challenges that benefit all community members. The Alliance for a Sustainable Future champions these collaborative approaches."– Jackie Biskupski, former Mayor of Salt Lake City and former Alliance Chair
"Cities are our nation's economic powerhouses, making them a key proving ground for policies to increase energy efficiency, deploy clean energy, and foster clean transportation." – Javier Gonzales, former Santa Fe Mayor and former Alliance Co-Chair