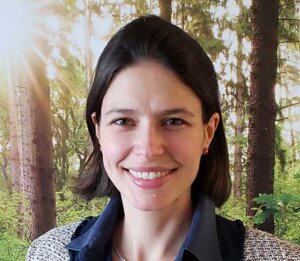 Catalina Cecchi Hucke is an International Fellow at the Center for Climate and Energy Solutions (C2ES). She has 10 years of professional experience in the field of sustainability, approached from private, public, and NGO perspectives.
Ms. Cecchi Hucke holds a Master of Science in sustainable development economics from the Ecole Polytechnique of Paris, a Master of Arts in environmental sciences from the University of Virginia (UVA), and a double major in Anthropology and Environmental Sciences from UVA.
Ms. Cecchi Hucke has recently worked for the COP25 Chilean Presidency and in the UNFCCC Climate Champions team, managing climate action contents and raising ambition through engagement with civil society stakeholders. During this time, she supported discussion on Article 6 implementation and green hydrogen strategy through GIZ.
Prior to her focus on climate change, Ms. Cecchi Hucke worked in Chile at the Mining Council as Head of (Policy) Working Groups, at the mining corporate level at BHP as Internal Auditor and Institutional Relations Specialist, and at the Ministry of Energy as Local Energy Strategies Manager. In France, she worked as sustainability auditor and consultant at Deloitte.
Ms. Cecchi Hucke is in advanced training as a philosopher analyst and archetypal psychoanalyst at the James Hillman Institute – International Master School on Soul Studies, in Florence. She supports the institute's international development and leads the Ecopsychoanalysis initiative (www.ecopsychoanalysis.org).