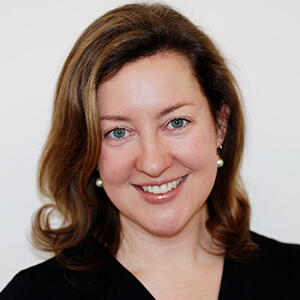 Verena Radulovic is Vice President for Business Engagement at the Center for Climate and Energy Solutions.
Ms. Radulovic works with businesses, policymakers and other stakeholders to advance business action on climate mitigation and resilience and help galvanize business support for ambitious, practical climate policies and solutions. She manages the Business Environmental Leadership Council (BELC), one of the largest U.S.-based cross-sectoral group of corporations focused on addressing the challenges of climate change and supporting mandatory climate policy.
Ms. Radulovic also oversees C2ES' work on climate-related financial risk disclosure, supply chains, corporate greenhouse gas accounting, and climate resilience.
Previously, Ms. Radulovic led the Center for Corporate Climate Leadership at the U.S. Environmental Protection Agency (EPA), which provides greenhouse gas accounting guidance and resources to help organizations reduce their climate impacts. She brings over 15 years of experience managing public-private partnerships at the EPA with industry that measure and reduce the carbon footprint of their operations, supply chains, and products. In previous roles, she managed ENERGY STAR's consumer electronics portfolio, developed an initiative to address potent greenhouse gases in the electronics industry's supply chain, helped companies understand green power purchasing options via EPA's Green Power Partnership, created pathways for smaller suppliers to report their GHG emissions to the U.S. government, and helped develop industry standards for more environmentally sustainable products.
Ms. Radulovic has an Msc. in environmental policy and international development from the London School of Economics and Political Science and a B.A. in political science from Indiana University, Bloomington, Indiana.