A new C2ES ad in POLITICO highlights 25 companies that are calling on Congress and President Biden to pass climate and energy investments now.
ABB • American Airlines • ArcelorMittal • bp America • Carrier Global Corporation • CMS Energy • Constellation Energy • Cummins, Inc • Daikin US Corporation • DSM • Duke Energy • Equinor • Exelon • General Electric • Holcim US • Johnson Controls • LanzaTech • National Grid • PG&E Corporation • Proterra • PSEG • Schneider Electric • Shell • Southern Company • Trane Technologies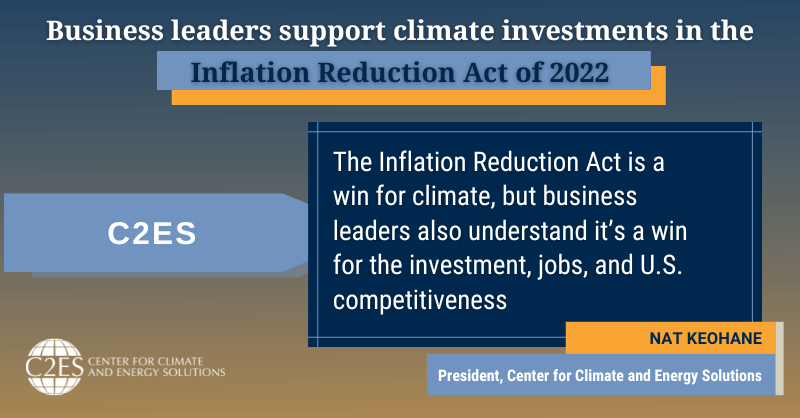 Today's agreement by Leader Schumer & Sen Manchin on the Inflation Reduction Act including climate & energy provisions is welcome news.

This package includes key investments that will boost America's energy security, lower costs for consumers and help to meet our climate goals.

— Nat Keohane (@NatKeohane) July 27, 2022
The companies cite climate and clean energy investments as critical to help us win the clean energy future; Strengthening our Energy Security, Meeting our Climate Goals, and Lowering Costs for Consumers.
See the POLITICO Ad: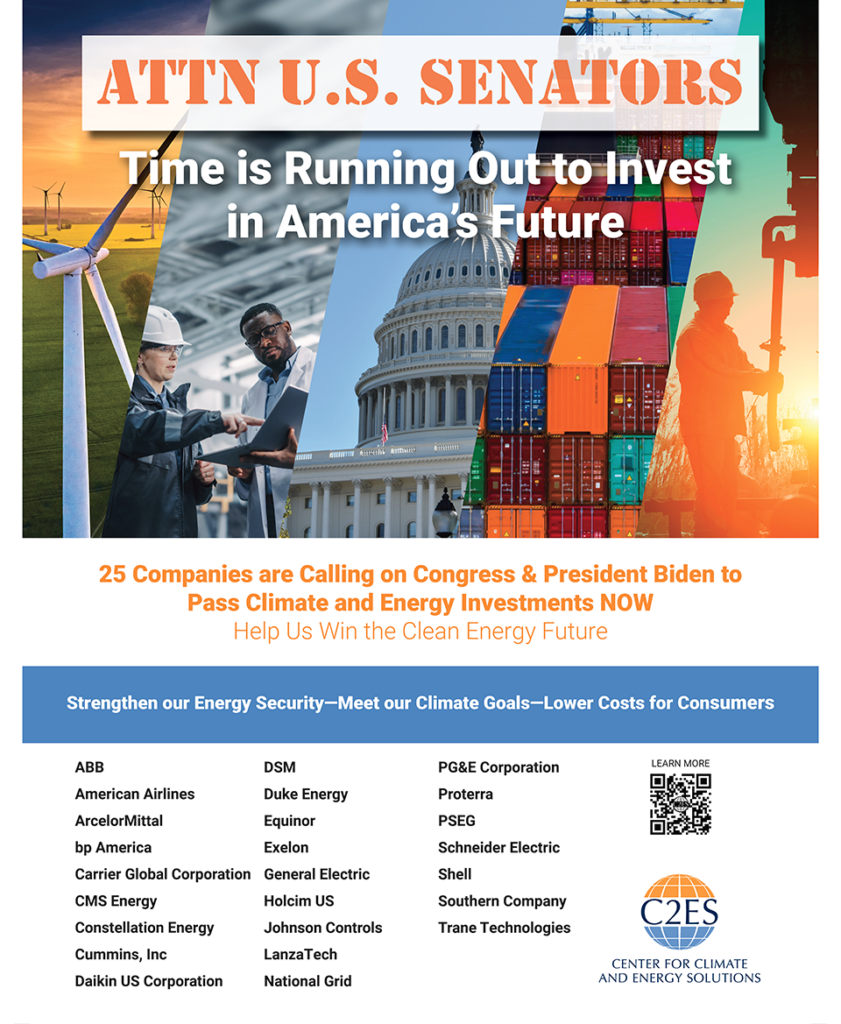 Leading businesses across the country have been stepping up at a critical moment to support ambitious climate action in Washington.
Support for the Build Back Better climate and clean energy provisions
In February, 27 companies jointly urged Speaker of the House Nancy Pelosi (D-Calif.) and Senate Majority Leader Chuck Schumer (D-N.Y.) to enact the climate provisions of the Build Back Better framework to make the United States more competitive in a low-carbon global economy. Signatories include ABB, ArcelorMittal, bp America, CMS Energy, Constellation, Cummins Inc, Daikin U.S. Corporation, DSM, DTE Energy, Duke Energy, Edison International, Entergy Corporation, Ford Motor Company, General Electric, HP Inc., Intel Corporation, LafargeHolcim, LanzaTech, National Grid, PG&E Corporation, Proterra, PSEG, Salesforce, Schneider Electric, Shell, Southern Company, and Trane Technologies.
41 Companies Back Net-Zero Infrastructure Package
As Congress considered infrastructure legislation last summer, forty-one leading companies called on Congress to prioritize investments that can accelerate the transition to a resilient net-zero economy in any infrastructure legislation. It was endorsed by ADM; AECOM; American Electric Power; Amazon; American Airlines; Arconic Corporation; Arizona Public Service Company; Bank of America; BASF Corporation; BHP; Carrier Corporation; Citi; CMS Energy; Danone North America; Dominion Energy; Dow, Inc.; DSM; Duke Energy; DuPont; Edison International; Entergy Corporation; Exelon; HP Inc.; IBM; Intel Corporation; Johnson Controls; LafargeHolcim; LanzaTech; Mars, Incorporated; National Grid; NRG Energy; Ørsted Offshore, North America; PG&E Corporation; PSEG; Schneider Electric; Shell; Siemens Energy, Inc.; Southern Company; Trane Technologies; Unilever United States; and Wells Fargo.