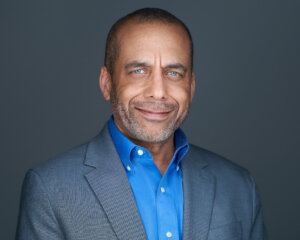 Richard T. Thigpen was named senior vice president for Corporate Citizenship at the Public Service Enterprise Group (PSEG) in July 2018. Mr. Thigpen also is chair of the PSEG Foundation. He is responsible for areas of the business that drive public policy through advocacy, including federal, state and local government affairs, sustainability and ESG, charitable activities, and corporate social responsibility. Mr. Thigpen is a member of PSEG's Senior Executive Team.
Mr. Thigpen joined PSEG in March 2007 as vice president for State Governmental Affairs, PSEG Services Corp. He has been a public affairs consultant since 1999 and was a co-founding partner of 1868 Public Affairs, which provides lobbying, strategic planning, public relations, and government relations services to clients in New Jersey, New York, and Washington, D.C.
Previously, Mr. Thigpen was an associate at the New York law firm of Thacher Proffitt and Wood in the mortgage-backed securities practice group (1988 to 1990), district director for U.S. Rep. Donald Payne (NJ-10) (1990 to 1996), and executive director of the New Jersey Democratic State Committee (1996 to 1999). He has served as a political analyst for New Jersey Network and as an academic associate for PublicMind, Fairleigh Dickinson University Polling, and Survey Research Institute. Mr. Thigpen was a former assistant to the president of the NAACP State Conference for Public Affairs. Currently, he is a member of the boards of the Regional Plan Association, New Jersey Climate Change Alliance, New Jersey Legislative Black Caucus Foundation, Public Media NJ Inc. (NJ PBS), Brown University Alumni Association, New Jersey Business & Industry Association, Alliance to Save Energy, Newark Beth Israel Medical Center, and the Donald M. Payne Global Foundation. He is also chair of the American Association of Blacks in Energy national board and serves as a visiting associate at the Rutgers University Eagleton Institute of Politics.
Mr. Thigpen holds a Doctor of Law degree from Columbia University School of Law and a Bachelor of Arts in political science from Brown University.