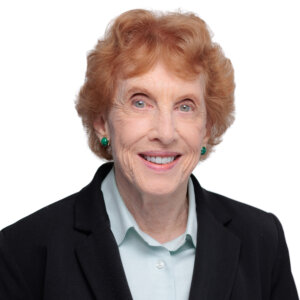 Leslie Carothers is a Visiting Scholar at the Environmental Law Institute, where she served as President from 2003-2011.  The Institute is the leading independent, non-partisan think tank on environmental law and governance and publisher of the Environmental Law Reporter. Its education and capacity building programs are offered internationally as well as in the United States. She has lectured on U.S. public interest litigation practices in ELI's recent education program for Chinese environmental lawyers presented with law school partners there.
Before joining ELI, Ms. Carothers served for 11 years as Vice President, Environment, Health, and Safety with staff responsibility for performance of worldwide operations of United Technologies Corporation, then a major manufacturer of products in the aerospace and building systems markets based in Hartford, Connecticut. She also served for four years as senior environmental counsel for PPG Industries in Pittsburgh, another major manufacturing company.
Ms. Carothers began her environmental career in the public sector in 1971 with the new U.S. Environmental Protection Agency. There she worked in the air pollution program to support the development and successful legal defense of the first regulations to reduce use of lead additives in gasoline. She later served as Enforcement Director and Deputy Regional Administrator of EPA's New England Region in Boston. From 1987-1991, she served as Commissioner of the Connecticut Department of Environmental Protection with both pollution control and natural resource management responsibilities.
Carothers is a graduate of Smith College , Harvard Law School,  and George Washington University Law School (LLM in environmental law). She was an adjunct lecturer on environmental regulation in 1991 at the Yale School of Forestry and Environmental Studies and in 2011, taught an advanced environmental law seminar while serving as Distinguished Scholar in Residence at Pace Law School. She is a past member and Chair of the Board of Directors of the Connecticut Audubon Society and the Environmental Law Institute and a former trustee of the Connecticut chapter of The Nature Conservancy. She serves on the World Environment Center's Gold Medal jury recognizing corporate achievement in sustainable development and is an advisor to the Smith College Center on Environment, Ecological Design, and Sustainability.