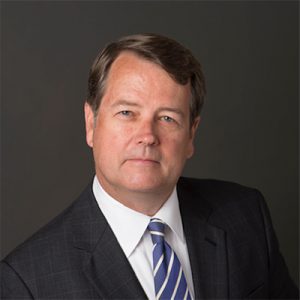 Jim McGinnis is a Managing Director and Head of the Energy Transition Group in the Investment Banking Division of Fifth Third Securities, Inc. in New York City.
Prior to joining Fifth Third Securities in April, 2023, Mr. McGinnis had been a Managing Director with client responsibility in the Renewable Energy sector at Solomon Partners since 2018. Prior to joining Solomon Partners, Mr. McGinnis was CEO of Mainstream Renewable Capital, the New York-based financing and investments arm of Mainstream Renewable Power Ltd., a wind and solar company based in Dublin, Ireland with over 8,000 MW's in development, under construction and in operation, a position he held from October 2016 until February 2018. In January 2013, Mr. McGinnis founded and until 2016 served as Portfolio Manager of the Halcyon Energy, Power and Infrastructure Capital Fund, L.P. From 2008 to 2012, Mr. McGinnis was a Managing Director at Harbinger Capital Partners, where he led a team with responsibility for that partnership's public and private energy and power investments and its pan-Asian infrastructure investment portfolio. From 2005 to 2008, Mr. McGinnis headed the energy private equity investment business of AIG Financial Products Corp. where, among other transactions, he initiated that firm's leading role in the $23 Bn leveraged buyout of Kinder Morgan, Inc. and advised on the creation of and investment by AIG-FP in Tenaska Marketing Ventures, Inc.
Before joining AIG-FP, Mr. McGinnis was an investment banker for eighteen years. He was a Managing Director in the investment banking division of Morgan Stanley, where he rose from Vice President from 1993 to 2005, advising public, private, government and financial sponsor clients on M&A, initial public offerings, privatizations, restructuring and complex capital-raising in the energy and power sectors from New York, Singapore, and Australia. From 1989 to 1993, Mr. McGinnis was an investment banker at Goldman, Sachs & Co. in the energy and power group, focused primarily on M&A, restructuring and capital-raising in the US domestic power sector. Prior to attending Harvard Business School, Mr. McGinnis was an analyst in the M&A Group at PaineWebber, Inc.
Mr. McGinnis was elected to and served from 2004 to 2013 on the C2ES board, and that of its predecessor, the Pew Center for Climate Change. He has also served on the corporate boards of: Kinder Morgan, Inc., NextDecade, Inc., CODA Automotive, Tenaska Marketing Ventures and Kelson Energy, LLC.
Mr. McGinnis earned an AB in government from Harvard College and an MBA from Harvard Business School, both with honors.