Washington, D.C.
October 23, 2023
Kaveh Guilanpour Statement on the Passing of Pete Betts
"It was with great sadness that I learned of the passing of Pete Betts. Pete led the European Union's negotiating team at the time the Paris Agreement was adopted. And while there are many that shaped that historic achievement, there are only a handful of people of whom it could be said that the Paris Agreement may never have been agreed without them. Pete was one of them.
"While Pete represented some of the richest and most powerful nations, he never failed to speak up for the poorest and most vulnerable people and countries, especially when they were not present to defend their own interests.
"Above all he was a friend and mentor, and will be greatly missed.
"Pete was always asking: 'How can we do more to fight climate change?', even up to a few weeks ago, despite being unwell. We owe it to him to make sure that COP28 answers that question.
"Our thoughts are with Fiona, his beloved wife, as well as his family, friends and colleagues."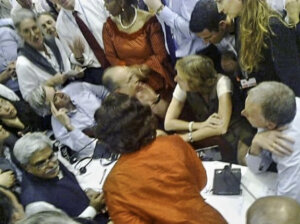 ### 
About C2ES: The Center for Climate and Energy Solutions (C2ES) works to secure a safe and stable climate, by accelerating the global transition to net-zero greenhouse gas emissions and a thriving, just, and resilient economy. Learn more at www.c2es.org.