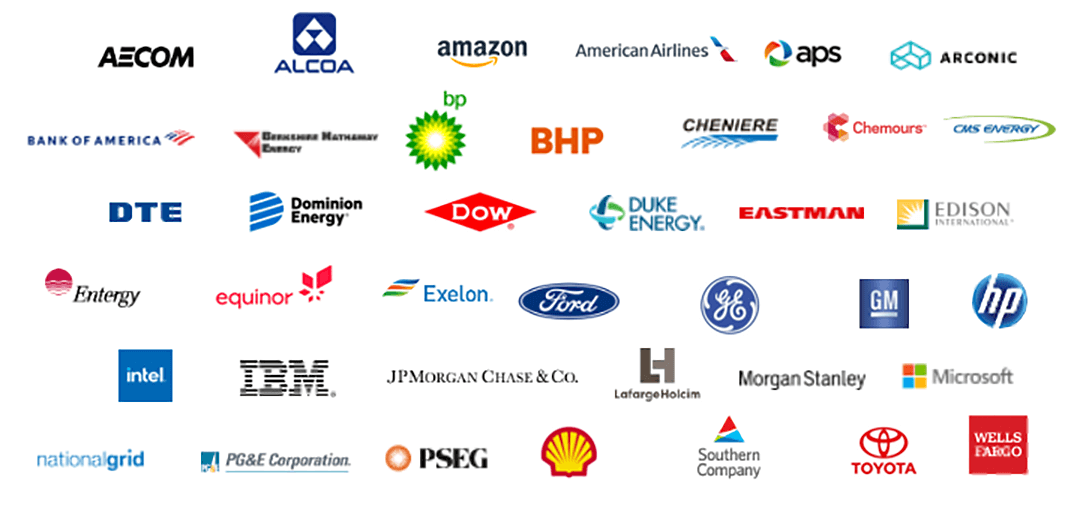 C2ES's Business Environmental Leadership Council (BELC) was created in 1998 with the belief that business engagement is critical for developing efficient, effective solutions to the climate problem. We also believe that companies taking early action on climate strategies and policy will gain sustained competitive advantage over their peers.
Starting with 13 companies, the BELC is now the largest U.S.-based group of corporations focused on addressing the challenges of climate change and supporting mandatory climate policy. The BELC comprises 38 industry leading, mostly Fortune 500 companies across a range of sectors with combined revenues of nearly $3 trillion and 3.7 million employees. Many different sectors are represented, from high technology to diversified manufacturing; from oil and gas to transportation; from utilities to chemicals.
While individual companies hold their own views on policy specifics, they are united with C2ES in the belief that voluntary action alone will not be enough to address the climate challenge. In 2011, the BELC members accepted the following guiding principles:
We accept the scientific consensus that climate change is occurring and that the impacts are already being felt. Delaying action will increase both the risks and the costs.
Businesses can and should incorporate responses to climate change into their core corporate strategies by taking concrete steps in the U.S. and abroad to establish and meet greenhouse gas (GHG) emission reduction targets, and/or invest in low and zero GHG products, practices and technologies.
The United States should significantly reduce its GHG emissions through economy-wide, mandatory approaches, which may vary by economic sector and include a flexible, market-based program. Complementary policies may also be necessary for sectors such as buildings, electricity generation, forestry, agriculture, and transportation that will help drive innovation and ease the transition to a low-carbon economy.
Climate change is a global challenge that ultimately requires a global solution. An international climate framework must establish fair, effective, and binding commitments for all developed and major developing economies.
BELC Member Profiles
AECOM
Overview
AECOM is a global network of design, engineering, construction and management professionals partnering with clients to imagine and deliver a better world. From high-performance buildings and infrastructure, to resilient communities and environments, to stable and secure nations, our vision is to be the premier, fully integrated infrastructure firm.
Sustainability
AECOM is ranked as the #1 environmental firm worldwide by Engineering News-Record. In 2016, AECOM publicly committed to reducing its global greenhouse gas (GHG) emissions 20 percent below 2015 baseline levels by 2020. As of the end of fiscal year 2017 we have achieved a 43 percent reduction in total Scope 1 and Scope 2 GHGs, three years ahead of target. This reduction was a result of four main drivers: consolidation of offices resulting in significant reduction of total square footage, more energy-efficient office space, reduction in total number of owned or leased fleet vehicles and higher efficiency vehicles in fleet. As a result of achieving our 2016 sustainability performance target ahead of schedule, we committed in September 2018 to an additional 20 percent absolute reduction below 2017 levels by 2025.
More Information
Alcoa
Overview
Alcoa is a global industry leader in bauxite, alumina, and aluminum products, and is built on a foundation of strong values and operating excellence dating back more than 130 years. Alcoa's products are used worldwide in aircraft, automobiles, commercial transportation, packaging, building and construction, oil and gas, defense, and industrial applications. The company had 2020 revenues of approximately $9.28 billion.
Sustainability
After achieving its emissions reductions goals, Alcoa set a goal in 2020 to reduce its scope 1 and scope 2 greenhouse gas emission intensity 30 percent by 2025 and 50 percent by 2030 from a 2015 baseline. To achieve its goals, the company has set stringent emissions standards for its internal operations and has developed and deployed mercury emission-reduction technologies across its refineries to meet these standards. Alcoa has also analyzed its operations in line with recommendations from the Task Force on Climate-related Financial Disclosures, identifying areas of risk exposure and strategies to address them.
Alcoa's low-carbon Sustana products line is the most comprehensive in the aluminum industry today, with three separate products: EcoSourceTM, the low-carbon alumina; EcoLumTM, low-carbon aluminum that measures emissions across the full value chain with no more than 4.0 mt of CO2e per ton of metal produced; and EcoDuraTM, primary aluminum with at least 50 percent recycled content.
Alcoa is certified by the Aluminium Stewardship Initiative (ASI), the industry's most comprehensive system for third-party validation of responsible production. In addition to earning the Performance Standard for a majority of our assets, Alcoa holds Chain of Custody certifications, which allows the sale of ASI-certified bauxite, alumina, and aluminum.
More Information
Amazon
Overview
Amazon is guided by four principles: customer obsession rather than competitor focus, passion for invention, commitment to operational excellence, and long-term thinking. Amazon strives to be Earth's Most Customer-Centric Company, Earth's Best Employer, and Earth's Safest Place to Work. Customer reviews, 1-Click shopping, personalized recommendations, Prime, Fulfillment by Amazon, AWS, Kindle Direct Publishing, Kindle, Career Choice, Fire tablets, Fire TV, Amazon Echo, Alexa, Just Walk Out technology, Amazon Studios, and The Climate Pledge are some of the things pioneered by Amazon.
Sustainability
Amazon is committed to building a sustainable business for its customers and the planet. In 2019, Amazon co-founded and became the first signatory of The Climate Pledge—a commitment to be net-zero carbon across its business by 2040, 10 years ahead of the Paris Agreement. As of May 2021, the Pledge has more than 100 signatories. Amazon aims to power its operations with 100 percent renewable energy by 2025, five years ahead of its initial 2030 target, and is the largest corporate buyer of renewable energy. Amazon is also committed to making all of its shipments net zero carbon through its initiative Shipment Zero, with 50% of all shipments net zero carbon by 2030. To achieve these goals, the company is working to improve the efficiency and electrification of its buildings and transportation fleet. In addition to decarbonizing its own operations, Amazon is also prioritizing investments in the broader climate crisis, including a $2 billion investment with The Climate Pledge Fund to support the global development of sustainable and decarbonizing technology, and a $100 million global fund, the Right Now Climate Fund, to bring natural climate solutions to scale.
More Information
American Airlines
Overview
Founded in 1930, American Airlines is now one of the largest airlines in the world. Its purpose is to care for people on life's journey, offering customers thousands of flights daily to hundreds of destinations around the world.
Sustainability
Climate change is a pressing global challenge. In response, American Airlines has set a goal to achieve net-zero carbon emissions by 2050 and developed a clear roadmap with a long-term vision. The vast majority (more than 98 percent) of American's carbon dioxide emissions come from petroleum-based jet fuel, and therefore reducing the consumption of jet fuel is a core focus of the company's climate change strategy. Over the past seven years, American has undertaken the most extensive fleet replacement initiative in the history of commercial aviation, taking delivery of 550 new, more fuel-efficient aircraft. Over the longer term, American expects to rely on technologies with greater potential to reduce emissions, including new engine technology, new aircraft and sustainable aviation jet fuel. While there are many steps American can take to reduce its carbon footprint, transitioning to a low- or no-carbon aviation future will depend on the combined efforts of the private sector and effective policies from governments at all levels, along with advances in airframe, engine and fuel technologies. American is committed to helping lead the way.
More Information:
APS
Overview
APS is the Southwest's foremost producer of clean, safe, and reliable electricity. Using a balanced energy mix that is nearly 50 percent carbon-free, APS has one of the country's most substantial renewable energy portfolios. APS owns and operates the Palo Verde Nuclear Generating Station, the country's top power producer and largest producer of carbon-free energy. The company is a proven leader in introducing technology and services that offer customers choice and control over their energy consumption. APS is the principal subsidiary of Pinnacle West Capital Corp.
Sustainability
APS has a vision to create a sustainable energy future for Arizona using innovative smart technologies, renewable energy sources, and energy efficiency. APS plans to meet 65 percent of the expected growth in Arizona's electricity demand by 2025 with renewable energy and energy efficiency.
APS is focused on advanced grid technologies such as automated metering infrastructure, control of the grid and advanced grid data analytics and visualization; technology assessment such as rooftop solar research and development, energy storage and microgrids; and business performance innovation, such as joining the Energy Imbalance Market and interacting with customers through a new technology platform called Project Cinergy.
More Information
Arconic
Overview
Arconic is a global provider of aluminum sheet, plate and extrusions, as well as innovative architectural products, that advance the ground transportation, aerospace, industrial, packaging, and building and construction markets. The company operates in ten countries and had 2020 revenues of $5.7 billion. 
Sustainability
Arconic is developing a 2030 low carbon roadmap based on in-depth stakeholder dialogue in 2021. Its goals will include improving operational energy and emissions performance, as well as increasing primary and recycled aluminum from low carbon sources. Arconic will also build upon its suite of lightweight aluminum alloys and other technologies across the transportation and building industries to increase efficiency and performance. Four of Arconic's facilities are certified by the Aluminium Stewardship Initiative, a third-party organization that verifies sustainable practices in the aluminum industry, and the company is working to certify other facilities. 
More Information
Bank of America
Overview
Bank of America is one of the world's leading financial institutions, serving individual consumers, small and middle-market businesses and large corporations with a full range of banking, investing, asset management and other financial and risk management products and services. The company operates in more than 40 countries and is headquartered in North Carolina.
Sustainability
Building on Bank of America's longstanding support for the Paris Climate Agreement, in February 2021, the company outlined initial steps to achieve its goal of net-zero greenhouse gas emissions in its financing activities, operations and supply chain before 2050.
Bank of America achieved carbon neutrality in its operations in 2019, a year ahead of schedule, and increased the number of vendors that measure and publicly report greenhouse gas emissions through the CDP Supply Chain survey. Bank of America has now established the next set of targets for its operations and supply chain to be achieved by 2030, including:
Reduce location-based greenhouse gas emissions by 75 percent (Scope 1 and 2).
Reduce energy use by 55 percent.
Reduce potable water use by 55 percent
Ensure 70 percent of global vendors, by spend, set greenhouse gas emissions reduction or renewable energy targets.
Also in 2021, Bank of America set a $1.5 trillion sustainable finance goal by 2030 to deploy, mobilize and scale capital for both environmental transition and social inclusive development purposes. As part of the sustainable finance goal, the Environmental Business Initiative (EBI) will deploy $1 trillion by 2030 to accelerate the transition to a low‑carbon, sustainable economy.
Bank of America has also analyzed its operations in line with recommendations from the Task Force on Climate-related Financial Disclosures, and released its report identifying climate-related risks and mitigation strategies in 2020. The company joined the Partnership for Carbon Accounting Financials (PCAF) in July 2020 to help develop a common framework to assess financed emissions.
More Information
Berkshire Hathaway Energy
Overview
Berkshire Hathaway Energy is a holding company of locally managed businesses delivering affordable, safe and reliable energy services to more than 11.6 million electric and gas customers and end-users globally. Approximately one third of the company's owned and contracted generating capacity comes from renewable and non-carbon sources.
Sustainability
Berkshire Hathaway Energy shares a vision for a secure and sustainable energy future Berkshire Hathaway Energy oversees BHE Renewables and its solar, wind, hydro and geothermal projects, making it the owner of one of the largest renewable energy portfolios in the United States. BHE's sustainability efforts are guided by the company's Environmental RESPECT Policy, which covers the areas of Responsibility, Efficiency, Stewardship, Performance, Evaluation, Communication and Training.  BHE is engaged in a voluntary industry environment, social, and governance (ESG) effort with the Edison Electric Institute and members of the financial community, to strengthen consistent, transparent reporting key sustainability measures.
More Information
BHP
Overview
BHP is a global mining, metals and petroleum company whose purpose is to create long-term shareholder value through the discovery, acquisition, development and marketing of natural resources. The company owns and operates a diverse range of businesses in different countries and ecosystems around the world.
Sustainability
In 2020, BHP set a goal to achieve net zero operational emissions by 2050. In the interim, BHP aims to reduce scope 1 and 2 GHG emissions at least 30 percent from 2020 levels by 2030. BHP is also working with suppliers to reduce its scope 3 emissions. To achieve its emissions goals, BHP established a $400 million Climate Investment Program to invest more resources in low emissions technologies and other activities to decarbonize its operations and value chain. The company established agreements for 100 percent renewable electricity use in its Chilean operations, and for a portion of its electricity needs in Australia to be met by renewables. BHP's Vice President of Sustainability and Climate Change is a member of the Task Force on Climate-related Financial Disclosures, and the company's 2020 Sustainability Report aligns with TCFD recommendations for climate risk disclosure.
More Information
BP
Overview
BP is one of the world's leading international oil and gas companies. It provides customers with fuel for transportation, energy for heat and light, lubricants to keep engines moving, and the petrochemicals products used to make everyday items as diverse as paints, clothes and packaging.
Sustainability
Oil and natural gas companies generate greenhouse gases in almost every aspect of their operations. Acknowledging their impact on climate change, BP aims to manage its emissions through energy efficiency, reductions in flaring (the controlled burning of natural gas), methane management and the design of new projects.
BP considers placing an economy-wide price on carbon –either through carbon taxes or a cap-and-trade system– as the best solution to limit greenhouse gas emissions, and it is playing its part by calling for a price on carbon, providing lower-carbon products including natural gas and renewables, pursuing energy efficiency and supporting research. BP already requires its businesses to use an internal carbon price –currently set at $40 per ton of carbon dioxide (CO2) equivalent for industrialized countries– in evaluating large new projects.
More Information
Cheniere
Overview
Cheniere, which only began liquefaction operations in 2016, is meeting a growing global need to manage climate risks globally and transition away from coal and oil to cleaner, less carbon-intensive energy sources such as natural gas. Cheniere is managing methane and carbon dioxide emissions to maintain environmental competitiveness in the global market.
Sustainability
In 2018, Cheniere adopted a set of climate and sustainability principles to guide its future efforts, consisting of four pillars: Science, Operational Excellence, Supply Chain, and Transparency. To respond to the first pillar, Cheniere co-founded the Collaboratory to Advance Methane Science to improve the scientific understanding of methane emissions across the entire natural gas value chain.
This year, Cheniere initiated engagements with its natural gas partners to better understand the greenhouse gas emissions of Cheniere's supply chain lifecycle and expects to issue its first Corporate Social Responsibility (CSR) report this year.
More Information
CMS Energy Corporation
Overview
CMS Energy Corporation is committed to clean energy for customers through its work and that of its subsidiaries, including Consumers Energy Company and CMS Enterprises Company. Consumers Energy is Michigan's largest electric and natural gas utility serving 6.7 million of the state's 10 million residents. CMS Enterprises owns, operates and markets domestic independent power production and develops, owns and operates wind and solar generation. CMS Energy engages its 8,500 employees to strive to fulfill its purpose of "World Class Performance Delivering Hometown Service" and measures its success through a triple bottom line focused on People, Planet and Profit. The company had 2020 revenues of $6.68 billion.  
Sustainability
CMS Energy and its primary subsidiary, Consumers Energy, have integrated sustainable principles throughout the company. In the past five years, Consumers Energy has created a cleaner, more sustainable energy future for Michigan by taking a leadership position in reducing air emissions, water use and landfill waste. Its actions to date have reduced its carbon emissions by more than 35 percent, reduced water use by more than 40 percent and avoided more than one million cubic yards of landfill disposal. 
In its 2021 proposed Integrated Resources Plan, Consumers Energy announced plans to achieve 60 percent emissions reductions by 2025, which will keep the company on track to meet its net-zero carbon emissions target by 2040. The company also announced that it plans to retire all of its remaining coal plants by 2025, making it one of the first utilities in the nation to go coal-free by 2025. Additionally, the company plans to source 90 percent of its electric capacity from clean sources by 2040, with 60 percent from renewables, after generating 11 percent of its energy from renewables in 2020. To achieve this target, Consumers Energy plans to add another 8,000 megawatts of solar by 2040.  
 Consumers Energy is embracing a cleaner and leaner vision, focused on eliminating wasted energy and adding more renewable energy sources such as wind and solar. Consumers Energy is also helping to reduce the gas utility's methane footprint. In 2019, it set an industry-leading goal of net-zero methane emissions from its natural gas delivery system by 2030 as outlined in our Methane Reduction Plan. Consumers Energy plans to reduce methane emissions from its system about 80 percent by replacing aging pipe, rehabilitating or retiring outdated infrastructure, and adopting new technologies and practices. Remaining emissions will be eliminated by purchasing and/or producing renewable natural gas, to mitigate greenhouse gases by capturing emissions that would otherwise go to the atmosphere.  
More Information
Dominion
Overview
More than 7 million customers in 16 states energize their homes and businesses with electricity or natural gas from Dominion Energy, headquartered in Richmond, Virginia. The company is committed to providing sustainable, reliable, affordable, and safe energy and to achieving net zero carbon dioxide and methane emissions from its power generation and gas infrastructure operations by 2050. Dominion is an electric and natural gas utility serving approximately 7 million customers in 16 states. The company had 2020 revenues of $14.17 billion.
Sustainability
Over the last 15 years, Dominion Energy has reduced carbon emissions by more than 50 percent and methane emissions by 25 percent. By 2050, the company will achieve net zero greenhouse gas emissions across their electric and natural gas operations in all 16 states where they do business. To achieve its goal, the company is investing in battery storage technology to improve reliability with renewable energy, developing advanced zero-carbon nuclear technology to power major cities, promoting public policies to support investment in new and emerging technologies, and exploring carbon capture initiatives.
According to the company, Dominion Energy operates the 3rd largest solar fleet among utilities in the United States and is leading the country in offshore wind. The Coastal Virginia Offshore Wind two-turbine pilot project is the first project installed in federal waters and is the only project developed and owned by an electric utility. When fully constructed in 2026, the 188-turbine commercial project will be the largest offshore wind project in the United States.
More Information
Dow Chemical Company
Overview
Dow Chemical Company combines the power of science and technology to drive innovations essential to human progress. The company extracts value from the intersection of chemical, physical and biological sciences to help address many of the world's most challenging problems such as the need for clean water, clean energy generation and conservation, and increasing agricultural productivity.
Sustainability
Dow is committed to applying its science and engineering expertise to create sustainable solutions to these challenges. Since 2006, the company has established sustainability goals to help lead the transition to sustainable planet and society. Through its most recent commitment, the 2025 Sustainability Goals, they are continuing to reduce its own footprint; deliver ever-increasing value to customers and society through its products and solutions; and lead in developing a blueprint for a sustainable planet.
Dow's goals include integrating public policy solutions, science, technology and value chain innovation; increasing confidence in chemical technology; maintaining world-leading operations performance in natural resource efficiency, environment, health and safety, among others.
More Information
DTE Energy
Overview
DTE Energy Co. is a Detroit-based diversified energy company involved in the development and management of energy-related businesses and services nationwide. Its largest operating subsidiaries are DTE Electric and DTE Gas. Together, these regulated utility companies provide electric and/or gas services to more than three million residential, business and industrial customers throughout Michigan. The company had 2020 revenues of approximately $12.18 billion.
Sustainability
DTE has set goals to achieve net zero emissions by 2050 in both its electricity and natural gas businesses. As interim goals, DTE Electric plans to reduce its emissions 50 percent by 2030 and 80 percent by 2040. To achieve its goals, the company is retiring coal-fired power plants, incorporating natural gas to balance more renewables, expanding voluntary renewables energy programs, advocating for constructive public policy, investing in research on carbon capture, large-scale storage and modular nuclear facilities, and adding thousands of megawatts of wind and solar power.  Decarbonization goals for DTE Gas are holistic across the natural gas value chain and include achieving net zero by 2050 for its suppliers as well as DTE's own natural gas operations.  In addition, DTE has committed to a 35 percent reduction in customer emissions by 2050 through the use of alternative fuels and new technologies, energy efficiency gains, and offsets.
DTE has invested more than $2.8 billion in renewable resources since 2008 and will invest an additional $2 billion over the next five years. By 2030, at least 25 percent of the energy DTE provides will come from renewable resources. Increasing generation from renewable resources is part of DTE's long-term plan to transform its generation portfolio and reduce carbon emissions.
DTE also offers programs for customers to improve residential energy efficiency, reduce EV charging bills, and increase their usage of renewable energy. DTE also seeks to help its natural gas customers reduce their emissions footprint. Launched in January 2021, DTE's CleanVision Natural Gas Balance program enables customers to purchase nature-based carbon offsets from Michigan-based forestry projects, the proceeds of which also support the development of renewable natural gas (RNG) that can further reduce greenhouse gas emissions from customer use of natural gas.
More Information
Duke Energy
Overview
Duke Energy is the largest electric power holding company in the United States, supplying and delivering energy to approximately 7.4 million U.S. customers. Our commercial and international businesses own and operate diverse power generation assets in North America and Latin America, including a portfolio of renewable energy assets.
Sustainability
Duke Energy's mission is to provide clean, reliable and affordable energy to customers, and it is taking steps to plan for success in the low-emission, decarbonized economy, and develop responsible energy and environmental policy. In 2015, the company increased its 2020 goal to own and purchase solar, wind and biomass by 33 percent.
The company is active in bringing more renewable energy to the market, investing in new technologies, expanding the use of energy efficiency as the "fifth fuel," and providing customers low-carbon options. It has also made progress in protecting and enhancing the quality of air, land and water resources by installing emissions control equipment on power plants, participating in stewardship projects, and forming comprehensive lake management plans.
More Information
Eastman
Overview
Eastman is a global advanced materials and specialty additives company. Its major end markets include transportation; building and construction; consumables; consumer durables; industrials and chemicals processing; food, feed and agriculture; and health and wellness. Eastman employs approximately 14,500 people around the world, serving customers in more than 100 countries. The company, headquartered in Kingsport, Tennessee, had approximately $8.5 billion in revenue in 2020.
Sustainability
In December 2020, Eastman set a goal to achieve carbon neutrality by 2050, with an interim goal of reducing Scope 1 and Scope 2 emissions 30 percent from 2008 levels by 2030. In 2019, Eastman achieved a 24 percent reduction in greenhouse gas intensity from a 2008 baseline, exceeding its 2020 goal. To achieve its current goals, Eastman will expand its energy efficiency programs, develop opportunities for process transformation, expand its utilization of renewable energy, and invest in technology and product innovation both internally and externally through research and development partnerships. Eastman established an internal Carbon and Climate Working Group of individuals across the company to inform and develop its sustainability strategy. Eastman is also engaged in a partnership with Canopy to support more sustainable supply chains and forest conservation. To further its commitment to circular economy strategies, the company is engaged in partnerships such as the Ellen MacArthur Foundation's Circular Economy 100 and Operation Clean Sweep, and aims to recycle 250 million pounds of plastic waste annually by 2025.
More Information
Edison International
Overview
Edison International (EIX) is one of the nation's largest electric utility holding companies, providing safe, clean and reliable energy and energy services through its independent companies. EIX is the holding company of Southern California Edison Company (SCE), a rate-regulated electric utility that supplies electric energy to approximately 15 million people in a 50,000 square-mile area within Central, Coastal and Southern California. EIX also owns Edison Energy, a global energy advisory company delivering comprehensive, data-driven energy solutions to commercial, institutional and industrial users to meet their cost, sustainability and risk goals. The company had 2020 revenue of approximately $13.578 billion.
Sustainability
Edison International has a goal to deliver 100 percent carbon-free electricity to Southern California Edison (SCE) customers by 2045, in accordance with California law, with an interim goal of 80 percent carbon-free electricity by 2030. In 2020, approximately 43 percent of the power that SCE delivered to customers came from carbon-free resources. To achieve its goals, SCE is proposing to invest more than $5 billion per year in its grid; engaging in policy advocacy; building cross-sector partnerships, particularly around electrification; and enhancing its customer programs. Through its Charge Ready program, SCE is building infrastructure to support 8,490 medium- and heavy-duty vehicles across 870 sites by 2024, and more than 41,000 light-duty electric vehicle charge ports across 2,200 sites by 2025. SCE has also committed to electrify its own vehicle fleet, including 100 percent of light-duty vehicles, 30 percent of medium-duty vehicles, 8 percent of heavy-duty vehicles, and 60 percent of forklifts by 2030. Edison Energy's Renewables Advisory team has executed more than 6.7 gigawatts of long-term renewable energy purchases for numerous major corporations and institutions—directly contributing to their financial, operational and environmental goals. In 2020, Edison Energy advised on more than 2.2 gigawatts of renewable power purchase agreements, including facilitating the largest clean energy procurement in the automotive sector. Edison Energy supports 15 of the Fortune 50 companies' efforts to meet their climate goals.
More information:
Entergy
Overview
Entergy Corporation is an integrated energy company, engaged primarily in electric power production and retail distribution operations. Entergy owns and operates power plants with approximately 30,000 megawatts of electric generating capacity, including nearly 10,000 megawatts of nuclear power.
Sustainability
Entergy announced in September 2020 that it is accelerating its climate action goals with a commitment to achieving net-zero carbon emissions by 2050. The company also reaffirmed its continued commitments to grid reliability and affordability for customers. The commitment to achieve net-zero emissions by 2050 builds on Entergy's 20-year history of climate action and positions the company for five decades of leadership toward advancing a cleaner and more sustainable future for all stakeholders. Entergy was also the first U.S. utility to voluntarily commit to stabilizing carbon dioxide emissions. In 2011, the company adopted Environment 2020, a comprehensive environmental strategy and management system that covers six areas of strategic action: environmental footprint, proactive adaptation, compliance leadership, energy efficiency, clean generation and stakeholder engagement.
More Information
Equinor
Overview
Equinor is a Norwegian-based international energy company with operations in more than 30 countries. They are the largest offshore operator in the world, the second largest supplier of natural gas to the European market, and a major investor in both the onshore and offshore US upstream energy sector. They have also developed a portfolio of new energy solutions, including an offshore wind license in New York and three operational offshore wind farms in the UK, on track to deliver renewable energy to one million European households.
Sustainability
Equinor aspires to shape the future of energy through their effort to deliver oil, gas and renewable energy in a safe and sustainable way. They believe a low CO2 footprint is a competitive advantage, providing attractive business opportunities in a transition to a lower emission economy.
Equinor aims to be a part of a global energy transformation and continue to turn natural resources into energy for people and progress for society. Equinor's strategy focuses on three main areas: they are building a high value and low carbon oil and gas portfolio, they are building a material industrial position in renewable energy and low carbon solutions, and they embed climate risk and performance into their decision making.
More Information
Exelon Corporation
Overview
Exelon Corporation is one of the nation's largest energy providers, with approximately $23.5 billion in annual revenues. The Exelon family of companies participates in every stage of the energy business, from generation to competitive energy sales to transmission to delivery. Exelon is composed of Exelon Generation, Constellation, delivery companies BGE, ComEd, PECO, Atlantic City Electric, Delmarva Power and Pepco and a shared corporate services unit, Exelon Business Services Company.
Sustainability
In 2018, Exelon set its third-generation emissions reduction goal, aiming to reduce greenhouse emissions 15 percent by 2022 from 2015 levels. Exelon was among the earliest energy companies to focus on addressing its carbon emissions, and its owned generation fleet carbon dioxide emission rate is 93 percent lower than the industry average. In 2008, Exelon launched Exelon 2020, an ambitious program to reduce, offset, or displace more than 15 million metric tons of greenhouse gas emissions per year by 2020. The company reached more than 18 million metric tons in 2013, seven years ahead of schedule. To achieve its current goal, Exelon will reduce methane emissions from natural gas distribution systems, reduce losses from other GHG gas-insulated electrical equipment, and invest in vehicle electrification. Exelon will also increase the energy efficiency of its own buildings and select emissions-free electricity at its facilities. Exelon's utilities have enabled more than 103,000 customers to connect 1,232 MW of local renewable generation to the emerging smart grid. Exelon is active in policy advocacy and is a founding member of the Climate Leadership Council and its proposal to create an escalating, nationwide carbon fee and dividend program in the United States. The company participates in the U.S. Department of Energy's (DOE) Partnership for Electric Sector Climate Resilience under which the DOE and industry partners identify best practices for resilient utilities in a changing climate.
More Information
General Electric
Overview
For more than 125 years, General Electric (GE) has pioneered technologies that have spurred world-transforming changes and improved the lives of billions. GE's equipment and solutions are deployed in more than 64,000 commercial and military aircraft (including GE and its joint venture partners), 45,000 onshore wind turbines, 7,700 gas turbines, and more than four million healthcare installations. The company had 2020 revenues of $79.6 billion.
Sustainability
GE is rising to the challenge of building a world that works, with a focus on opportunities for its technology in: the energy transition to drive decarbonization, precision medicine that personalizes diagnoses and treatments, and the future of smarter and more efficient flight. In October 2020, GE set a new goal to achieve carbon neutrality within its own operations by 2030 after surpassing its 2020 emissions reductions targets ahead of schedule, and the company announced its intention to exit the new-build coal power market. From the Haliade™-X, the world's most powerful offshore wind turbine in operation; to its HA gas turbine fleet, which can work with up to 50% hydrogen today; to digital solutions that help utilities modernize and bring more renewables onto the grid, GE is enabling substantive emissions reductions today while accelerating new technologies for lower-carbon power generation. The company is also active in advocating for public policy changes, and identifies public policy priorities on an annual basis.
More Information
General Motors
Overview
Founded in 1908, General Motors (GM) is one of the world's largest automakers. The company sells its cars and trucks to dealers for consumer retail sales, as well as to fleet customers, including daily rental car companies, commercial fleet customers, leasing companies, and governments. GM also works to develop innovative technologies to shape the future of the automotive and mobility industries through new brands and ventures. With approximately 155,000 employees worldwide, the company had 2020 revenues of $122.48 billion.
Sustainability
In January 2021, GM announced goals to achieve carbon neutrality across its global products and operations by 2040 and an aspiration to eliminate tailpipe emissions from new light-duty vehicles by 2035. In late 2020, GM announced that it will launch 30 new electric car models globally by 2025 and spend $27 billion on electric and autonomous vehicles. Per GM's goals, all its U.S. plants will run on renewable energy by 2030, and all its global plants will do so by 2035. Working with its suppliers, the company also set a target to sustainably source at least 50 percent of the material for its vehicles by 2030. To achieve its goals, GM will continue investing in energy efficiency, purchasing renewable energy, scaling and utilizing its energy storage expertise, and leveraging policy solutions. The company is working with EVgo, an electric vehicle charging stations company, to add more than 2,700 new fast chargers to its network by the end of 2025.
More Information
HP Inc.
Overview
HP is a leading global provider of personal computing and other access devices, imaging and printing products, and related technologies, solutions and services. The company sells to individual consumers, small- and medium-sized businesses ("SMBs") and large enterprises, including customers in the government, health and education sectors.  HP's mission is to create technology that makes life better for everyone everywhere.  The company is headquartered in Palo Alto, California, and had 2020 revenues of  $56.6 billion.
Sustainability 
HP is committed to creating positive, lasting change through its three-pillar sustainable impact strategy for People, Planet and Communities.
"People: Enable all people who help bring our products to market to thrive at work, at home, and in their communities and embed diversity and inclusion in everything we do.
Planet: Transform our entire business to advance a more efficient, circular, and low-carbon economy and enable our customers to invent the future through our most sustainable portfolio of products and services.
Communities: Unlock educational and economic opportunity through the power of technology. Improve the vitality and resilience of our local communities.
More information
IBM
Overview
IBM creates value for clients by providing integrated solutions and products that leverage data, information technology, deep expertise in industries and business processes, with trust and security and a broad ecosystem of partners and alliances. These solutions draw from an industry-leading portfolio of consulting and IT implementation services, cloud, digital and cognitive offerings, and enterprise systems and software — all bolstered by one of the world's leading research organizations. Headquartered in Armonk, NY with operations worldwide, IBM's 2020 revenue was $73.6 billion.
Sustainability
In February 2021, IBM announced it will achieve net zero GHG emissions by 2030, furthering its decades-long work in addressing climate change. The goal covers IBM's Scopes 1 and 2 emission, and Scope 3 emissions from its electricity consumption at co-location data centers. IBM will accomplish this by prioritizing on reducing emissions via energy efficiency and transitioning to renewables. IBM will reduce GHG emissions 65 percent by 2025 from 2010 levels; source 75 percent of the electricity it consumes from renewables by 2025, and 90 percent by 2030. IBM will use feasible technologies (in or by 2030), such as carbon capture to remove emissions in an amount equals or exceeds its residual emissions. In 2019, 47 percent of IBM's electricity consumption came from renewable sources, and IBM had reduced emissions 40 percent against a 2005 baseline.  IBM Research launched a Future of Climate initiative in 2020 including efforts to accelerate the discovery of solutions that help addressing climate change.
IBM issued its formal corporate environmental policy in 1971.  Since 1990, IBM has disclosed environmental performance in its annual Corporate Environmental Report.
In 2007, IBM published its position on climate change recognizing it as a serious concern warranting timely, meaningful action on a global basis to address. Since 2010, IBM has required its first-tier suppliers to establish a management system to address their social and environmental responsibilities, including setting targets to reduce GHG emissions. In 2015 and again in 2017, IBM publicly supported the UN Paris Agreement. In 2019, IBM became a Founding Member of the Climate Leadership Council, supporting its plan for a carbon tax.
More Information
Intel
Overview
Intel, a leader in the semiconductor industry, develops computing and communications technology that is the foundation of the world's innovations. The company's engineering expertise helps secure, power, and connect billions of devices and the infrastructure of the smart, connected world—from the cloud to the network to the edge and everything in between. The company had 2020 revenues of $77.9 billion.
Sustainability
Intel has a suite of 2030 goals, including achieving 100 percent renewable energy use across its global manufacturing operations, conserving an additional 4 billion kilowatt hours of energy, reducing its absolute scope 1 and 2 carbon emissions an additional 10 percent from 2010 levels, increasing product energy efficiency tenfold for Intel client and server microprocessors to reduce its scope 3 emissions, and achieving net positive water use by conserving 60 billion gallons of water and funding external water restoration projects. Since 2000, the company has achieved a 31 percent absolute reduction in its scope 1 and 2 emissions. Intel has met 100 percent of its U.S. electricity use with green power since 2015. It has invested more than $200 million in energy conservation projects in its global operations, resulting in cumulative savings of more than 4.5 billion kilowatt-hours and cost savings of more than $500 million through the end of 2019. Intel has requested that its top suppliers disclose carbon footprint, water data, and climate risk information through CDP and has required suppliers to set carbon reduction goals.
More Information
JPMorgan Chase & Co.
Overview
JPMorgan Chase & Co. is a leading global financial services firm, servicing millions of consumers, small businesses and many of the world's most prominent corporate, institutional, and government clients.
Sustainability
JPMorgan Chase & Co. is undertaking a range to actions to reduce greenhouse gas (GHG) emissions, increase renewable energy use, and maximize green buildings and sustainable paper use. The company purchases Verified Emission Reduction credits to offset all GHG emissions associated with employee air travel.
JPMorgan Chase & Co. is partnering with the Nature Conservancy on its NatureVest initiative to create and transact a pipeline of investable deals that deliver both meaningful conservation results and financial returns for investors.
More Information
LafargeHolcim
Overview
Holcim (US), Inc. is one of the largest manufacturers and suppliers of cement and mineral components in the United States. Holcim's (US) business segments are Commercial Builders, Residential Builders, Architects, and Public Works.
Sustainability
Holcim is a corporate leader in sustainability through its 2030 Plan, a set of targets which support the UN "Sustainable Development Goals." As part of this plan, Holcim has committed to produce 40 percent less net CO2 per ton of cement than the company did in 1990, and to reduce the among of fresh water used to produce each ton of cement by 30 percent.
The LafargeHolcim Foundation for Sustainable Construction, created in 2003, works to raise awareness of the important role that architecture, engineering, urban planning and construction have in achieving a more sustainable future.
More Information
Morgan Stanley
Overview
Morgan Stanley is a global financial services firm that advises, originates, trades, manages and distributes capital for governments, corporations, institutions and individuals. The Firm maintains significant market positions in three business segments—Institutional Securities, Wealth Management and Investment Management and provides a wide variety of products and services to a large and diversified group of clients and customers.
Sustainability
Morgan Stanley believes capital markets can serve as a catalyst for positive
change. By endeavoring to advance sustainability, the company aims to support a healthier planet and more inclusive economy while delivering long-term value for their clients and shareholders.
Morgan Stanley demonstrates sustainability leadership in the financial services sector by:
Mobilizing capital to drive progress on key issues, such as climate change and inclusive growth;
Accelerating the adoption of sustainable investing strategies across capital markets through the Morgan Stanley Institute for Sustainable Investing;
Developing innovative ways to shrink the environmental impact of their global operations;
Engaging their employees to help drive sustainable investing and finance innovation, and to understand how sustainability issues intersect with their daily lives.
Morgan Stanley has a goal to mobilize $250 billion in capital to support low-carbon solutions by 2030, and is committed to being carbon neutral in its own operations by 2022.
More Information:
Microsoft
Overview
Microsoft is a platform and productivity company for the mobile-first, cloud-first world, and is a worldwide leader in software, services, devices and solutions that help people and businesses realize their full potential.
Sustainability
Microsoft has implemented an internal carbon fee, which is used to improve energy efficiency, increase renewable energy purchasing, and fund community projects that offset carbon and advance sustainable development worldwide. The company has been carbon neutral since June of 2012, and powered completely by renewable energy since 2014.
More Information
National Grid
Overview
National Grid is an international electricity and gas company and one of the largest investor-owned energy companies in the world. In the North Eastern U.S., National Grid connects more than seven million gas and electric customers to vital energy sources.
Sustainability
In 2015, National Grid achieved a 62 percent reduction in its scope 1 and 2 greenhouse gas emissions compared to a 1990 baseline. The company has a long-term commitment to reduce its greenhouse gas emissions by 80 percent before 2050, with an interim target of 45 percent by 2020. National Grid has also set a UK target to reuse or recycle 100 percent of recovered assets by 2020. In 2015, 95 percent of the company's waste was recycled.
More Information
PG&E Corporation
Overview
Pacific Gas and Electric Company, a subsidiary of PG&E Corporation, is one of the largest combined natural gas and electric utilities in the United States. The company delivers some of the nation's cleanest energy to 15 million people in Northern and Central California.
Sustainability
In 2014, PG&E achieved a 13 percent reduction in water use at office facilitates and service yards. In the same year, 27 percent of power delivered to customers came from eligible renewable resources. This achievement was possible in part due to PG&E's Solar Choice initiative, which gives customers the option to purchase up to 100 percent of their power from solar energy.
PG&E was recognized for the quality of its climate change reporting by being named to the 2015 Climate Disclosure Leadership Index. The company earned a perfect score of 100, and was one of only four U.S. utilities to make the list.
More Information
Public Service Enterprise Group
Overview
Public Service Enterprise Group Incorporated (PSEG), through its subsidiaries, operates as an energy company primarily in the Northeast and Middle Atlantic States. The company operates nuclear, coal, gas, oil-fired, and renewable generation facilities with a generation capacity of approximately 13,146 megawatts. PSEG also transmits electricity; and distributes electricity and gas to residential, commercial, and industrial customers, as well as invests in solar generation projects and implements energy efficiency and demand response programs.
Sustainability
PSEG established a goal to reduce its greenhouse gas emissions by 25 percent from 2005 levels by 2025. The company achieve this target in 2011, 14 years ahead of schedule. Since 2011, PSEG has reduced methane emissions by 2 percent annually, equaling a total of 32,000 million tons of CO2 equivalent.
In 2014, PSEG awarded a $1 million grant to Montclair State University to create the PSEG Institute for Sustainable Studies, an initiative to support research and educational programs that will foster a sustainable and resilient New Jersey. In 2010, the company also opened its Energy & Environmental Resource Center, which is focused on building a greater understanding of the environmental and energy challenges we face and developing strategies to balance energy demand and environmental stewardship.
More Information
Shell
Overview
Shell is a global group of energy and petrochemical companies with an average of 93,000 employees in more than 70 countries. Shell uses advanced technologies and an innovative approach to help build a sustainable energy future. The parent company of the Shell group is Royal Dutch Shell PLC, which is incorporated in England and Wales.
Sustainability
In 2010, Shell exceeded its voluntary target set in 1998 for direct greenhouse gas (GHG) emissions from facilities it operates to be at least 5 percent lower than 1990 levels. Shell's GHG emissions in 2010 were around 25 percent lower than 1990 levels. A subsequent voluntary target has not been set, but the company is continuing to reduce emissions each year. In 2015, Shell's GHG emissions were 6 percent lower than 2014 levels.
More Information
Toyota
Overview
As the world's second-largest automaker, Toyota designs, tests, manufactures, sells and services vehicles and vehicle components in more than 170 countries. Toyota is committed to being a good corporate citizen in the communities where it does business and believes in supporting programs with long-term sustainable results.
Sustainability
Toyota reduced, recycled, reused or composted more than 96 percent of its waste in 2015. Twenty-eight of the company's North American facilities meet the U.S. Zero Waste Business Council's definition of a Zero Waste Business. By using creative techniques such as collecting rain water, Toyota saved more than 54 million gallons of water in 2015.
Toyota achieved its target to reduce energy use by 12 percent per vehicle by 2016, from a 2010 baseline. This goal was met ahead of schedule, and the company has achieved a 16.6 percent reduction so far. Toyota set a similar target to reduce greenhouse gas emissions by 12 percent by 2016. This goal was also met early, with an achieved 16 percent reduction to date.
More Information