One of the most visible effects of COVID has been the transformation of previously traffic-clogged streets into spaces buzzing with pedestrians, cyclists, restaurants, and diners. Streets that were once dominated by cars are bustling with a new kind of activity, be it dining "al fresco" or neighbors congregating safely to socialize. Opening streets to foot traffic has helped U.S. cities cope with the COVID-19 pandemic – and the strategy is pulled straight from local sustainability playbooks.
In many cases the process of reprioritizing streets has been a favorite solution touted by local climate advocates who have long recommended sustainable design approaches such as "complete streets" and "open streets." The design approach known as complete streets ensures safe access for all users, including pedestrians, transit riders, and cyclists, and is an important tool in increasing walkability and reducing transportation-related greenhouse gas emissions.
The City of Portland, Oregon, has incorporated this approach in residential streets designated as neighborhood greenways. The low-speed greenways prioritize pedestrians and cyclists by installing speed bumps and pavement signage among other measures. They were an obvious choice to leverage as part of Portland's COVID-19 response, and city officials quickly reviewed opportunities to improve the greenways in 100 locations as residents began using outdoor space differently. Temporary barriers have been erected to close streets from all but local vehicular traffic to give residents space to access the outdoors and move around the city while practicing social distancing.
Similarly, when cities implement open streets as a sustainability or public health strategy, they temporarily close streets to cars and invite residents to use the space for cycling and gathering, often with planned recreation. Open streets programs have existed since the 1970s and have grown in popularity in recent decades as city governments advocate for more sustainable cities with fewer cars (and greenhouse gas emissions) and increased physical activity.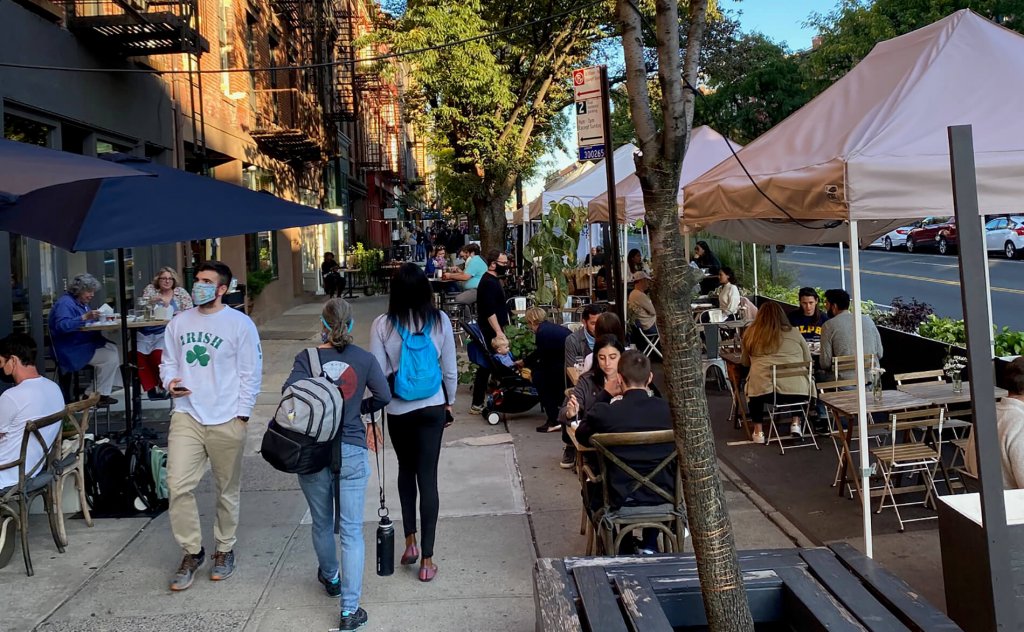 In the face of COVID, many cities across the United States—including Boston, Philadelphia, and Oakland, California—are adopting more permanent open-street initiatives to accommodate increased non-motorized traffic and provide alternatives to indoor spaces for residents and businesses alike. In many cities—including New York City (pictured above), the street transformations provide additional outdoor seating to restaurants, which have been devastated by the pandemic. During summer months, open streets with dense tree canopies and misting stations provided an alternative to indoor cooling centers which put patrons at high risk of exposure to the virus. As the colder months approach, some state and local governments are providing grants to businesses to help them winterize outdoor spaces; allowing them to continue to accommodate patrons in safer open-air environments and helping them to remain open as additional shutdowns loom.
In many cities the COVID response has jump-started complete and open street pilot projects, with greater ease than usual because city leaders are striving to protect residents, small businesses and employees from health risks and economic ruin. The strategy has allowed residents to continue supporting local businesses and socialize during the pandemic, and offered others the opportunity to experience their neighborhoods and cities in a way they may not have before. On a larger scale, city residents and leaders now have an opportunity to re-evaluate how people should move through our cities and use public spaces. Time will tell if the approach has staying power past the pandemic, but the success of these initiatives offers residents and businesses the tangible experience of a climate solution that prioritizes walkability and low-carbon transportation.